I'm excited to be guesting with W.Lynn today and getting to celebrate birthdays with her. I know she's not been feeling the best, so I wanted my post to be special and fun. Oh and hot. I love a hot post. So... What's something hot that has to do with birthdays?
Well, I found some fun candles... couple different kinds. Might make the cake rather fun. Definitely lights up the place.
Oh and I brought some necklaces we can all share. Nice and festive.
And for COCKtail hour.... hee hee. What a great shaker!
I've got some great playing cards, some streamers to brighten up the place, and a few other things. I think a rousing game of pin the Torpedo on the Sailor would be fun!
Now, what would I love for my favorite sexy birthday... presents? Gerard Butler, Tom Hiddleston or Eric Szmanda wrapped neatly in a bow. Better yet, all three in the same bow. Without clothes. Yeah... WLynn, who would you pick?
Where would we go for my birthday? Steakhouse. Or sea food. Filet mignon. Yummmm. What's your birthday food poison, WLynn?
I'm not a cake person, but I do like ice cream, so how about we share those candles and whip up a big 'ole batch of ice cream? We can put those candles to use. The two scoops would be great added decoration. Sound like a plan?
I say it's time to celebrate! Who wants to pin the torpedo first?
Want to know more about Wendi Zwaduk? Here you go:
I always dreamt of writing the stories in my head. Tall, dark, and handsome heroes are my favorites, as long as he has an independent woman keeping him in line. I earned a BA in education at Kent State University and currently hold a Masters in Education with Nova Southeastern University.
I love NASCAR, romance, books in general, Ohio farmland, dirt racing, and my menagerie of animals. I'm published with Total-E-Bound, Changeling Press, Liquid Silver Books and The Wild Rose Press. Come join me for this fantastic journey!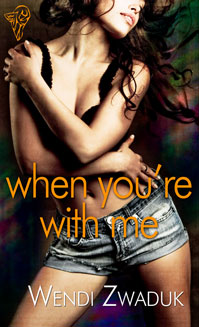 And I'll throw in a copy of When You're With Me as a giveaway to a commenter.
A topless dancer and a cynical cop doesn't equal a lifetime love...or does it?
There's more to Jude Nelson than just a sequined thong. She's got big dreams to become an artist. There's one tiny wrinkle in her plan—she'll never forget the bloody image of her friend's battered body in the dumpster.
Who can a nude dancer turn to for help? Certainly not a hardened undercover cop...
Detective Drew Alwyn is on the case to find out who murdered his good friend and fellow officer. But the moment he sees Jude, he can't look away. He has to decide which is more important—his dedication to his job or the girl who holds his bruised and battered heart.
Will these two opposites come together to solve the case or will their desire consume them?
Reader Advisory: This story contains scenes of bondage, mentions of drug use by secondary characters, silk, sequins and art supplies used in foreplay, voyeurism and a little spanking for good measure.
Available NOW from Total-E-Bound!