Well hello and Welcome to Decadent Decisions. I'm pleased to have Katia and Sylvia from The Submission. They have graciously agreed to answer a few of my questions. The Submission is a co-authored work by D.F. Krieger and Sonia Hightower. Here's the blurb.
The editor is always right... Katia Lane, a down on her luck writer, finds this out the hard way. When she submits an erotic tale to Daring Desires Publishing, one head strong woman meets another as an author/editor war ensues. There's no room for a diva in the publishing industry...and Sylvia L. Avers means to demonstrate this to the fledging writer. When you submit a manuscript to Daring Desires, you submit more than a book...you submit yourself.
As a BDSM conference nears, both women prepare to face off. Which one is going to be the top space?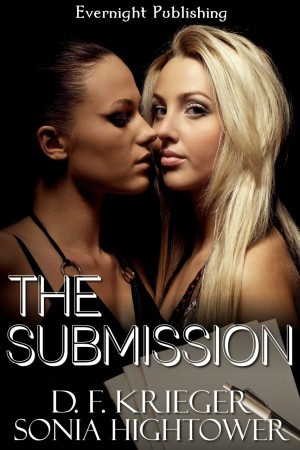 So with that in mind, ladies let's get started.
What makes you happy now?
Katia: The fact that I'm a rising star in the literary world has me stoked.
Sylvia: Seeing my authors write about important lifestyle choices the correct way.
What is your greatest fear?
Katia: Ugh. One star reviews!
Sylvia: That the masses will believe BDSM is nothing but orgies made of chains, nipple clamps, and whipping in clubs.
What would you change about yourself if you could?
Katia: I would make myself a bit less timid in the bedroom.
Sylvia: Change about myself? *Laughs* Darling, I'm perfect the way I am.
What's your favorite color?
What type of vehicle do you drive?
Katia: Well, it was a Honda. Now... a BMW, of course. The royalties are just rolling in.
Sylvia: I love my motorcycle.
Katia: I'm stubborn and persistent. I don't like being told No. If you tell my book sucks, I strive to make it better. I want to be successful.
Sylvia: I will get my way and you will learn I am always right. That's all that needs to be said.
How would the hero/ine describe you?
Katia: I can only imagine what Sylvia would say about me. I'm guessing she would call me a diva, though I don't agree.
Sylvia: Katia is completely a diva, and I'm sure she'd describe me in with some very unlady-like words.
What really moves you, or touches you to the soul?
Katia: Pirates. Always will be my deep passion. I love everything pirates.
Sylvia: That shining moment when an author finally "gets it."
If you were granted three wishes, what would you ask for?
Katia: To write a bestseller twice a year. Or should I aim for more? Endless supply of chocolate and wine. Fancy resort vacations with a special someone...if she was interested. *sly glance*
Sylvia: *Raises eyebrow* Authors who know what they are writing about if it's important, authors who learn the meaning of research, and authors who know to listen and not argue when I edit them.
What three things would you take to a Desert Island?
Katia: My laptop, coffee, and my editor.
Sylvia: A lifetime supply of Coca Cola, an unlimited ice maker, and my computer.
Sylvia chuckled as she ran her fingers down the front of the other woman's dress. The fabric whispered under her fingertips, reminding her of Katia's skin. She slid her hand to the side, pausing over a breast, before tracing a finger in a circle over where she bet Kat's nipple was. "Do you want to be spanked?" She allowed her tone to take on the husky sound that often went hand in hand with her state of horniness.
"I..." Katia licked her lips and shifted, obviously experiencing conflicting emotions. "I'm still not sure about spanking. It felt good but..."
"Shhh." Sylvia placed a finger on the lush, pink lips that she wanted so badly to bruise with kisses. "I know what you need, Kitty Kat. I'll make you purr."
She took Katia's hand and led her to the bed. The structure was large and sat high enough to give her exactly the angle she needed. With coaxing pressure, she bent Katia over the edge of the bed. Sylvia loved the way Kat's dress flirted with the bottom of her round, firm ass. It brushed the tops of the back of her thighs like a black butterfly testing cream-colored roses.
Without warning, she laid her palm across Katia's rear in a gentle smack. The woman emitted a soft gasp of surprise, but didn't struggle. Pleased, Sylvia did it again and again, making each smack a little harder than the last. A part of her wished she'd brought her paddle, but another part enjoyed the silk against her palm. The way it slid higher and higher.
When she had Katia panting, Sylvia slid her hand between the sub's thighs and inserted a finger into her pussy. "Oh my, Kitty Kat, you are a spigot down there. I've never met anyone who could turn the water works on like this."
Katia's body tensed, and Sylvia laughed as she used her free hand to slap one of the now exposed ass cheeks. The skin was a nice shade of pink that spoke of force without the risk of bruising. It made Sylvia's own pussy wet to see how well she'd worked the BDSM virgin over. The mewls of pleasure that Katia gave with each thrust of Sylvia's finger did nothing to stave off that desire.
"Yes, my little bestseller?" Sylvia pushed her finger deep and held still, awaiting Katia's next words.
"I think I understand now," Katia said with a whimper. "I understand it isn't about pain, but about the trust to take each other past certain boundaries."
Sylvia shook her head. "Oh no," she said as she inserted a second finger. "You don't understand quite yet."
With those words, she began pumping Katia harder. She allowed her other hand to wander to her waist, down her band, and under her panties. When she slid her finger inside of her, it was like an earthquake shook her entire body. As if sensing her orgasm, Katia screamed out as well, her pussy clenching Sylvia's fingers.
As they stood there, panting, Sylvia removed her hand from Katia's sopping pussy. She went to the bathroom, washed her hands off, then filled a cup with cold water. Katia sat on the edge of the bed when she walked back, looking shaken and uncertain. Sylvia handed her the water.
After Katia took a few sips, she closed her eyes. "Thank you," she whispered.
"Now," Sylvia said as she caressed Kat's cheek, "you understand."
Want to know more about these fabulous authors?